Disney's The Little Mermaid
A Unique Experience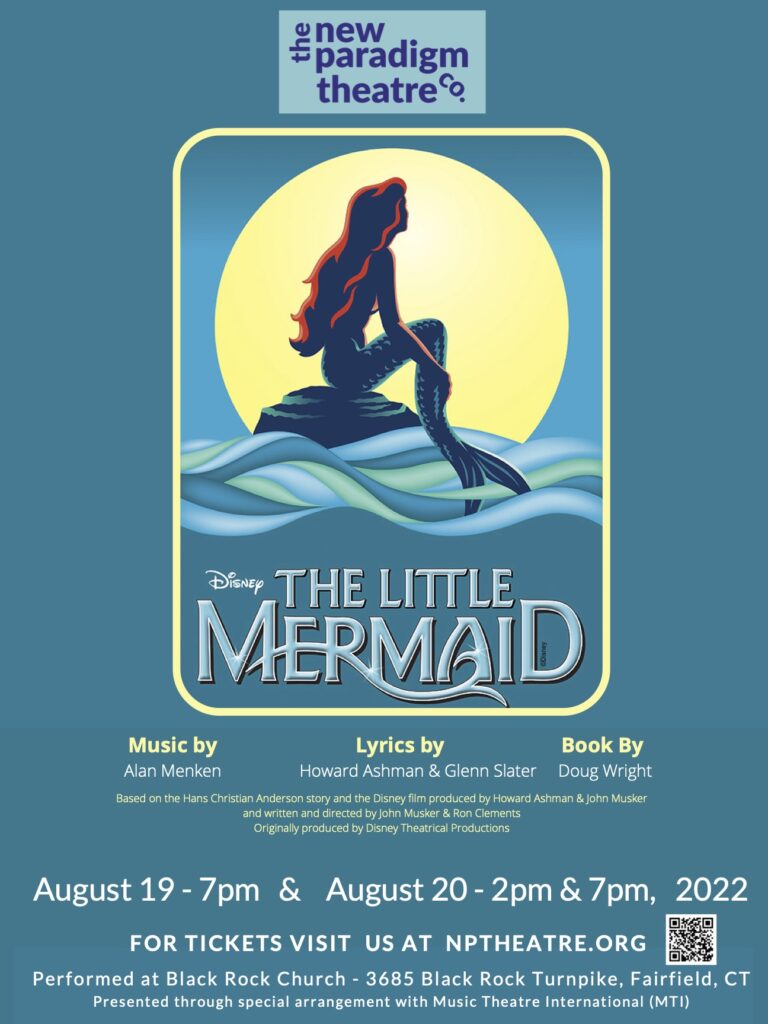 Your top three reasons to apply
for the NPT summer intensive and show:
NPT Makes Connections: Perform elbow-to-elbow with our professional Broadway, Film and TV pros.
NPT Creates Experiences: In addition to professional rehearsals with Broadway pros and designers, students take breakout conservatory-level classes with a focus on Film, TV, commercial, technical work.
NPT Mentors Leaders: Learn more than just how to become the next Broadway star. Learn the skills you need as a young leader through the work we do with other social justice partner non profits in the community. This year our partner is The Maritime Aquarium at Norwalk! Environmental volunteer activities include "Clean up the Sound" and other Maritime events with ECHO, the Maritime's teen group. "Trash" collected will be designed into our set, costume and puppetry pieces. Our students will be a part of creating these items in workshops!
*Young people of all abilities, ages 8-18 years, may apply and be considered for roles!
8-12 year olds can register until July 1
Families can apply to get a "Family discount" of 20%
If NPT has to cancel the summer production due to pandemic related reasons you will get a refund of your application fee or you may forward it on to the next year.
Please read the information below thoroughly first.
Submit your application by clicking on "DOWNLOAD APPLICATION" at the bottom of the page and emailing it to info@nptheatre.org.
Once approved you must pay your deposit to secure your spot.
** Our Covid protocols are also listed below
REHEARSALS AND SHOWS 
8-12 year olds are invited to the first Read Thru with the full cast
on Sunday July 31.
Camp for 8-12 year olds starts on Aug 8.
with three shows Aug 19th and Aug 20th in Fairfield CT.
The program is open to all students interested in singing, hip hop, Broadway-style dancing, acting, film, TV, video and stage production, environmental justice and more.
Please read through our rehearsal times below:
YOUNG ACTORS:
8-12 year old students will have camp and rehearse Little Mermaid for two weeks
on the dates/times below:
Sunday, July 31 for the Cast Read Thru with the entire cast. Time TBD
Rehearsal/Camp starts

August 8

(Monday- Friday 10am-12:30pm. And Sat/Sun August 13/14th time TBD) Young actors will work with the choreographer, director and camp teacher as well as making crafts and props for the show! They will be featured in the full show as well as perform a showcase for parents.
Tech week (August 15-18 (day off is Aug 17th) all actors/students are called so please block out the entire week as described below. They may not stay the entire rehearsal but please block out these times for now in your schedule.
TECH WEEK: August 15, 16, 18 (call time 2pm. Reh 3-10pm). Day off Weds. Aug 17.
SHOWS: August 19, Friday, 7pm. and August 20, Saturday 2pm and 7pm
First week rehearsal location:  Emmanuel Church – 285 Lyons Plain Rd. Weston
Tech rehearsal location: Black Rock Church, 3685 Black Rock Tpke, Fairfield
Scott Bryce, producer, will be creating a Documentary of the entire Little Mermaid Experience.
       —————————————————————————————-
Please read Tech and Show schedule carefully as we do not allow any absences during this time period.
NPT rehearses in the Great Hall at Emmanuel Church in Weston CT https://www.emmanuelwestonct.org/facilit
NPT performs at the State of the Art, Black Rock Church/Theatre in Fairfield CT.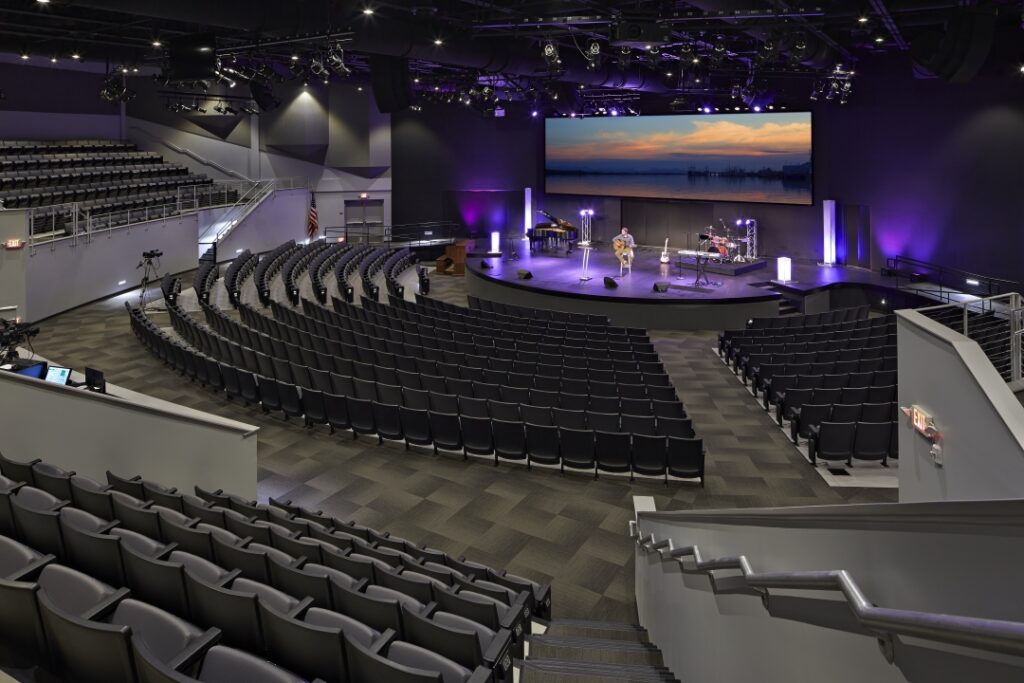 THE UNIQUE EXPERIENCE
Every year NPT finds a unique way to present the summer production and tie it into another local non profit whose mission reflects the show's theme.
OLIVER 2016: We partnered with The Council of Churches of Greater Bridgeport as the OLIVER theme was "Homelessness to Hunger to Hope". The cast volunteered at their soup kitchen and raised money for this charity. We included some of their young people in our cast.
PETER PAN 2017: We partnered with KEYS (free instrumental lessons for youth in need) and included children from their program on scholarships in the show. The cast chose to continue volunteering at the soup kitchen.
HUNCHBACK 2018: Our partnership was with the CT Burns Care Foundation as the "Hunchback" was treated in a similar way to those with burns. Our cast volunteered at the soup kitchen.
WEST SIDE STORY in FEB 2019: NPT and the Norwalk Symphony co-produced and were proud to partner with Building One Community, B1C. The Center for Immigrant Opportunity (B1C), is a nonprofit organization that educates, employs, empowers, and engages immigrants and the community. We hosted a Self Defense class that featured this non profit, the Norwalk PD and gave tips on self defense especially for young women.
BYE BYE BIRDIE in AUG 2019: The American Legion Post 12/Veterans were chosen. As a patriotic Veterans organization devoted to mutual helpfulness, and with the resonating themes of military service and Americanism, it was a fitting partner as the musical is inspired by the phenomenon of singer Elvis Presley, as he was drafted into the U.S. Army in 1957. NPT also featured a group of the Veterans onstage during one of the Birdie scenes.
SOUTH PACIFIC in FEB 2020: NPT and NSO again co-produced and partnered with The Nice Festival. NICE is committed to bringing awareness to the multiplicity of our global cultural heritage. The performing arts have not only been a conduit through which people of different race and culture can share natural commonalities but one of the most efficacious in addressing social injustice worldwide.
FOOTLOOSE: Our non profit partner was KIDS HELPING KIDS in Stamford CT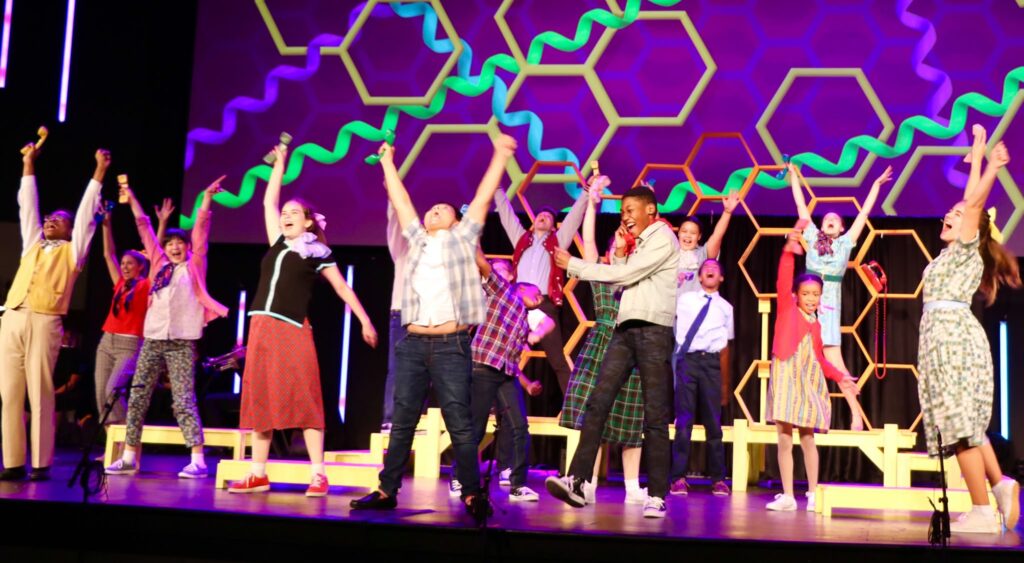 ***Everyone must submit a non-refundable deposit of $200 when they register.  This will be applied to your entire payment and is non-refundable.  For those on a tight budget, you may finish your payment in full or you can go on an installment plan that will be billed each month until your payment is complete. 
We are only accepting a limited number of students this year. NPT has fostered many young professional performers who are also getting roles with other companies from Broadway to local regional theatres. We take great pride in the training we offer and think that our unique approach of having the students perform side-by-side with the pros, as well as the concept of tying our work into another local community issue, is one of the reasons we turn out these great young leaders.
PRICES:
Families can apply to get a "Family discount" of 20% by this date as well. Scholarship info is listed below.
For Young Actors ages 8-12 years old:
The two-week acting, singing and dancing camp and rehearsals for the selected scenes/songs that they will be included in for Little Mermaid with our older teens and professionals is only: $399.
Given the unique vision of our show (Clean up the sound with the Maritime etc) our costume vision is very "steampunk". Every actor should budget another $100-$150 for costuming. Our professional costume designer will be holding workshops that will allow parents and youth to help design their own costumes according to our vision of this unique show.
SCHOLARSHIPS:
Some students may be offered partial scholarships based on need and as determined by the NPT board of directors. If you would like to apply for a partial scholarship:
Please send a detailed cover letter outlining your economic need to info@nptheatre.org.
Ask your child's teacher or non-family member to complete the Letter of Recommendation detailing why your child and family should be considered for a scholarship.
Set up a zoom meeting with NPT staff/Artistic Director
We only have a limited number of scholarships that may be available until June 1st
PLEASE CONTACT ARTISTIC DIRECTOR- KRISTIN HUFFMAN AT INFO@NPTHEATRE.ORG WITH ANY QUESTIONS
You should Download the application and mail that to info@nptheatre.org.
After you are approved you should come back to this page and pay your $200 registration asap to secure your spot.
Or you may mail the $200 deposit to:
New Paradigm Theatre Company, Inc.
c/o Martin, DeCruze & Company, LLP
2777 Summer Street, Suite 401
Stamford, CT 06905
Your $200 deposit must be received within a week of your application's approval.
You may pay the $200 deposit or the full $699 fee only using the button below.
New Paradigm Theatre Company is a 501(c)(3) nonprofit theatre promoting social responsibility and fostering creative problem solvers, leaders, and global citizens through theatre arts education and productions.
This program is made possible in part with the support of the Department of Economic and Community Development, Office of Arts!