Disney's The Little Mermaid
A Unique Experience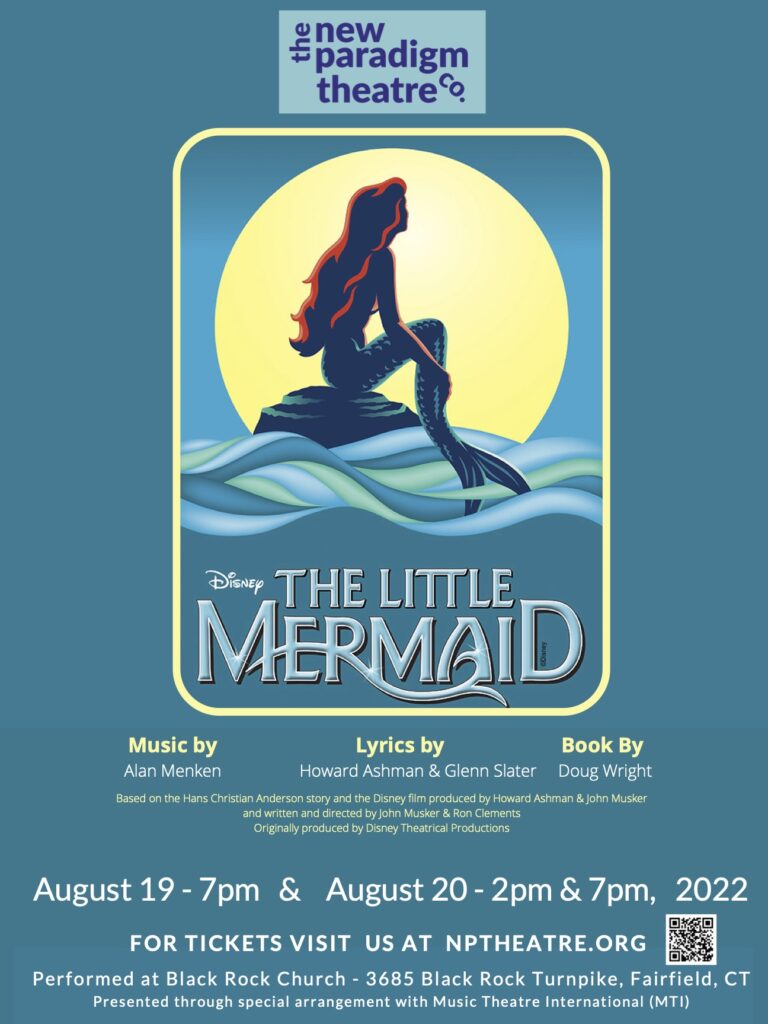 Your top three reasons to apply
for the NPT summer intensive and show:
NPT Makes Connections: Perform elbow-to-elbow with our professional Broadway, Film and TV pros.
NPT Creates Experiences: In addition to professional rehearsals with Broadway pros and designers, students take breakout conservatory-level classes with a focus on Film, TV, commercial, technical work.
NPT Mentors Leaders: Learn more than just how to become the next Broadway star. Learn the skills you need as a young leader through the work we do with other social justice partner non profits in the community. This year our partner is The Maritime Aquarium at Norwalk! Environmental volunteer activities include "Clean up the Sound" and other Maritime events with ECHO, the Maritime's teen group. "Trash" collected will be designed into our set, costume and puppetry pieces. Our students will be a part of creating these items in workshops!
*Young people of all abilities, ages 8-18 years, may apply and be considered for roles!
Any student who registers before March 1st will be given $100 off of the full tuition for teens and $50 off tuition for 8-12 year olds. Families can apply to get a "Family discount" of 20% by this date as well. Scholarship info is listed below.
If NPT has to cancel the summer production due to pandemic related reasons you will get a refund of your application fee or you may forward it on to the next year.
Please read the information below thoroughly first.
Submit your application by clicking on "DOWNLOAD APPLICATION" at the bottom of the page and emailing it to info@nptheatre.org.
Once approved you will pay your deposit.
** Our Covid protocols are also listed below
REHEARSALS AND SHOWS
Rehearsals start: Sunday July 31
with three shows Aug 19th and Aug 20th in Fairfield CT.
The program is open to all students, age 8 through high school, interested in singing, hip hop, Broadway-style dancing, acting, film, TV, video and stage production, environmental justice and more.
Please read the new additions to our rehearsal times
and age groups below:
YOUNG ACTORS: (New addition!)
8-12 year old students will have camp and rehearse Little Mermaid for two weeks
on the dates/times below:
Sunday, July 31 for the Cast Read Thru with the entire cast. Time TBD
Rehearsal/Camp starts

August 8

(Monday- Friday 10am-12:30pm. And Sat/Sun August 13/14th time TBD) Young actors will work with the choreographer, director and camp teacher as well as making crafts and props for the show! They will be featured in the full show as well as perform a showcase for parents.
Tech week (August 15-18 (day off is Aug 17th) all actors/students are called so please block out the entire week as described below. They may not stay the entire rehearsal but please block out these times for now in your schedule.
TECH WEEK: August 15, 16, 18 (call time 2pm. Reh 3-10pm). Day off Weds. Aug 17.
SHOWS: August 19, Friday, 7pm. and August 20, Saturday 2pm and 7pm
First week: Rehearsal Location: Emmanuel Church – 285 Lyons Plain Rd. Weston
Tech rehearsal location: Black Rock Church, 3685 Black Rock Tpke, Fairfield
**This is a new addition to our summer classes. As such we must have at least
6 students registered but not more than 10 to proceed.
We will refund your deposit if we do not hit our capacity.
***NPT reserves the right to assess qualified and experienced 12 year olds who may be able to be placed in the older group.
TEEN ACTORS:
13-18 year olds students will rehearsal and have intensive workshops on these dates:
Sunday, July 31 for the Cast Read Thru with the entire cast. Time TBD
Rehearsals and intensives start Aug 1

Aug 1-5 Monday-Friday 1pm-7pm
Aug 6/7 Sat/Sunday 1pm-7pm but also TBD
Aug 8 Monday (day off)
Aug 9-12 Dues-Friday 1pm-7pm
Aug 13/14. 1pm-7pm but also TBD
TECH WEEK: August 15, 16, 18 (call time 2pm. Reh. 3-10pm) Day off Weds Aug 17.
SHOWS: August 19, Friday, 7pm and. August 20, Saturday 2pm and 7pm
Teens will play multiple roles in the show and work elbow-to-elbow with the stars.
First two weeks: Rehearsal Location: Emmanuel Church – 285 Lyons Plain Rd. Weston
Tech rehearsal location: Black Rock Church, 3685 Black Rock Tpke, Fairfield
***There will be workshops for students, parents and volunteers prior to the start of rehearsals (April 30th and May TBD) with our professional costume and set designers. You will each get the chance to help "create" portions of your costumes ie, mermaid tiaras, fish helmets, out of "green" and recycled materials. During this time producer, Scott Bryce, will be creating a Documentary of the entire Little Mermaid Experience.
ALL STUDENTS WILL BE INVITED TO PERFORM AT THE MAY 22ND GALA!
Please read Tech and Show schedule carefully as we do not allow any absences during this time period.
NPT rehearses in the Great Hall at Emmanuel Church in Weston CT https://www.emmanuelwestonct.org/facilit
NPT performs at the State of the Art, Black Rock Church/Theatre in Fairfield CT.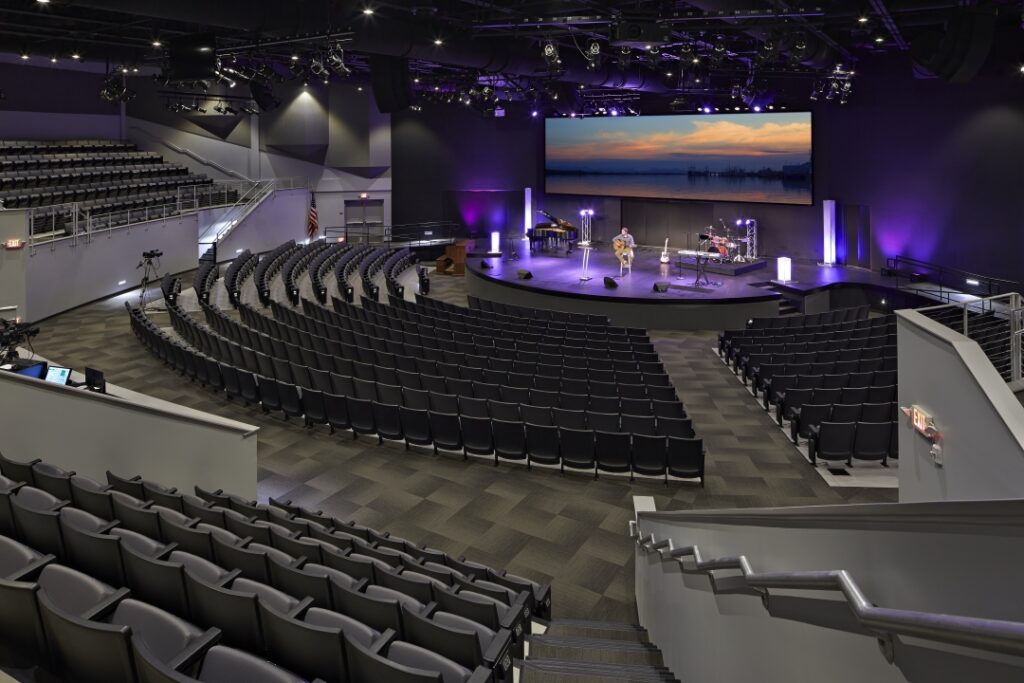 THE UNIQUE EXPERIENCE
Every year NPT finds a unique way to present the summer production and tie it into another local non profit whose mission reflects the show's theme.
OLIVER 2016: We partnered with The Council of Churches of Greater Bridgeport as the OLIVER theme was "Homelessness to Hunger to Hope". The cast volunteered at their soup kitchen and raised money for this charity. We included some of their young people in our cast and in our extensive PR.
PETER PAN 2017: We partnered with KEYS (free instrumental lessons for youth in need) and included children from their program on scholarships in the show as well as fund raised during our Prologue Bazaar before each show for this charity. The cast chose to continue volunteering at the soup kitchen.
HUNCHBACK 2018: Our partnership was with the CT Burns Care Foundation as the "Hunchback" was treated in a similar way to those with burns. Our cast volunteered at the soup kitchen.
WEST SIDE STORY in FEB 2019: NPT and the Norwalk Symphony co-produced and were proud to partner with Building One Community, B1C. The Center for Immigrant Opportunity (B1C), is a nonprofit organization that educates, employs, empowers, and engages immigrants and the community. We hosted a Self Defense class that featured this non profit, the Norwalk PD and gave tips on self defense especially for young women. Visits to Channel 8, Channel 12 and print coverage were extensive.
BYE BYE BIRDIE in AUG 2019: The American Legion Post 12/Veterans were chosen. As a patriotic Veterans organization devoted to mutual helpfulness, and with the resonating themes of military service and Americanism, it was a fitting partner as the musical is inspired by the phenomenon of singer Elvis Presley, one of America's most significant icons in rock and roll history, as he was drafted into the U.S. Army in 1957. NPT also featured a group of the Veterans onstage during one of the Birdie scenes.
SOUTH PACIFIC in FEB 2020: NPT and NSO again co-produced and partnered with The Nice Festival. NICE is committed to bringing awareness to the multiplicity of our global cultural heritage. The performing arts have not only been a conduit through which people of different race and culture can share natural commonalities but one of the most efficacious in addressing social injustice worldwide. The song "Carefully Taught" from the musical South Pacific reminds us how important it is to expose our children at a young age to the different cultures to encourage understanding of our unique backgrounds.
FOOTLOOSE: Our non profit partner was KIDS HELPING KIDS in Stamford CT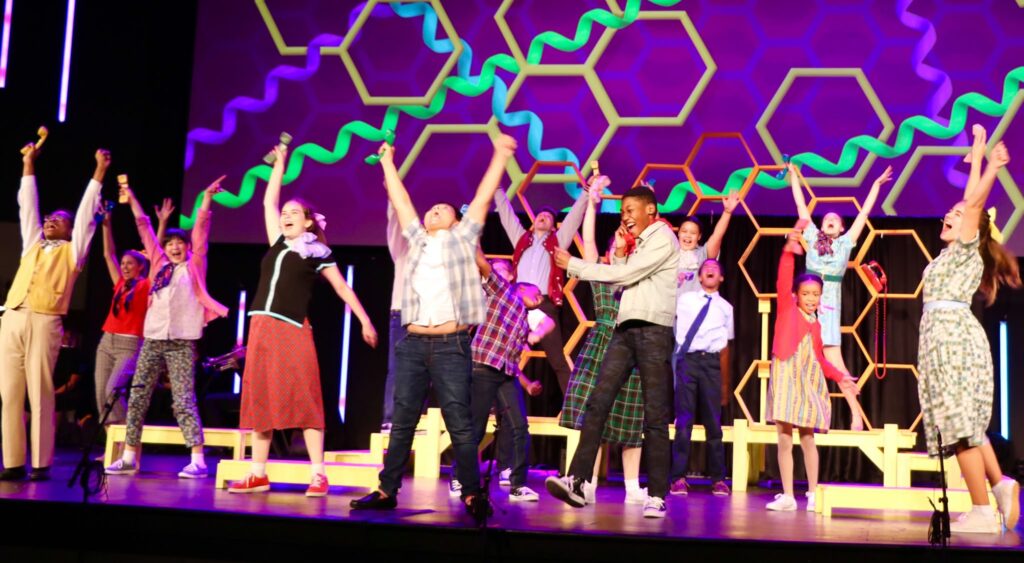 Little Mermaid casting:
There will be many roles for youth, teens and adults in this show as well as "pop out" solos and lines that will be assigned after the callbacks once registration is complete.
Youth and Teens: Experienced students (from Peter Pan, Oliver, Hunchback, Birdie, Footloose or Holiday productions) will be offered the chance to register without the required video, pre-screen audition. Anyone new to our theatre will be required to submit an audition video before being approved.
***Everyone must submit a non-refundable deposit of $200 when they register. This will be applied to your entire payment and is non-refundable. For those on a tight budget, you may finish your payment in full or you can go on an installment plan that will be billed each month until your payment is complete. You are guaranteed a spot if you have submitted your deposit but you must complete your full payment by March 1st.
We are only accepting a limited number of students this year. NPT has fostered many young professional performers who are also getting roles with other companies from Broadway to local regional theatres. We take great pride in the training we offer and think that our unique approach of having the students perform side-by-side with the pros, as well as the concept of tying our work into another local community issue, is one of the reasons we turn out these great young leaders.
PRICES:
For Young Actors ages 8-12 years old:
The two-week acting, singing and dancing camp and rehearsals for the selected scenes/songs that they will be included in for Little Mermaid with our older teens and professionals is only: $399.
Given the unique vision of our show (Clean up the sound with the Maritime etc) our costume vision is very "steampunk". Every actor should budget another $100-$150 for costuming. Our professional costume designer will be holding workshops that will allow parents and youth to help design their own costumes according to our vision of this unique show.
For our Teens ages 13-18 years old:
The three week intensive training, rehearsals and shows with Broadway, film and TV pros is $799 (roughly $266 per week).
Given the unique vision of our show (Clean up the sound with the Maritime etc) our costume vision is very "steampunk". Every actor should budget another $100-$150 per role) for costuming. Our costume designer will be holding workshops that will allow parents and youth to help design their own costumes according to our vision of this unique show.
Roles that are available for Youth/Teens
Students will play a multiple roles. TBD after our callbacks in Spring. Must be fully registered to attend callbacks.
MERSISTERS: Aquata, Andrina, Arista, Atina, Adella, and Allana are the daughters of King Triton and sisters to Ariel.
FLOTSAM & JETSAM: Ursula's sinister lackeys. With devious charm, tricky and menacing, they are always lurking about, ready to take advantage of sea inhabitants. Male or Female
FLOUNDER: Ariel's sincere and sensitive best friend who rarely leaves her side. A spunky fish with a sweet sense of humor. Male or Female.
PILOT: Male or Female
SAILORS: The crew of Prince Eric. Male or Female.
SEA CREATURES: Various shapes, sizes, and species – comprise the underwater ensemble of King Triton's court. "Under the Sea" presents opportunities to showcase both talented singers and dancers.
WINDWARD & LEEWARD: Trumpet fish, who are heralds in King Triton's court.
Male or Female.
GULLS: The Gulls comprise Scuttle's zany back-up flock in "Positoovity." These feathered friends of Scuttle's are equally as off-beat. Male or Female. Hip Hop tap and sing.
MAIDS: Four palace servants who report to Grimsby. They haughtily assist Ariel in preparation for dinner with Prince Eric and are a bit jealous of this pretty stranger in their midst.
THE CHEFS: The Chefs comprise the sous staff of the eccentric Chef Louis. Their equally overblown movement adds to the comedic chaos of dinner as they chase Louis around the dining room. Male or Female.
THE PRINCESSES: The Princesses try everything they can to win the heart of Prince Eric. As none possesses the voice he is searching for, each should have an exaggerated and comedic personality that is revealed through song.
SCHOLARSHIPS:
Some students may be offered partial scholarships based on need and as determined by the NPT board of directors. If you would like to apply for a partial scholarship:
Please send a detailed cover letter outlining your economic need to info@nptheatre.org.
Ask your child's teacher or non-family member to complete the Letter of Recommendation detailing why your child and family should be considered for a scholarship.
Set up a zoom meeting with NPT staff/Artistic Director
We only have a limited number of scholarships that may be available until March 1st as per our nonprofit's mission to serve "in need" youth.  If you win a scholarship you will be asked to participate in our Gala on May 22nd, as well as all the "Clean up the Sound" and other volunteer Maritime events
PLEASE CONTACT ARTISTIC DIRECTOR- KRISTIN HUFFMAN AT INFO@NPTHEATRE.ORG WITH ANY QUESTIONS
You should Download the application and mail that to info@nptheatre.org.
After you are approved you should come back to this page and pay your $200 registration asap to secure your spot.
Or you may mail the $200 deposit to:
New Paradigm Theatre Company, Inc.
c/o Martin, DeCruze & Company, LLP
2777 Summer Street, Suite 401
Stamford, CT 06905
Your deposit must be received within a week of your application's approval.
New Paradigm Theatre Company is a 501(c)(3) nonprofit theatre promoting social responsibility and fostering creative problem solvers, leaders, and global citizens through theatre arts education and productions.
COVID PROTOCOLS;
Below you will find a comprehensive list of the protocols we will be following. Please feel free to reach out to us if you have any questions about any of the guidelines set out below. Please note: These will be updated as new guidelines are introduced and as the situation in our community progresses.

GENERAL REHEARSAL INFORMATION

Students should bring a snack or dinner with them to rehearsal every day.

Because we are living in ever-changing times, if we are required to cancel the show for any reason, your payment will be refunded in full.

PROTOCOLS AND SAFETY GUIDELINES

1. We ask that caregivers and siblings stay in their cars and do not enter the building to reduce the number of people present.

2. Upon arrival, students will be required to wash hands.

3. Students will be required to wear a mask for the full day at camp. (This may be updated in August.)

4. No food or snacks will be shared. Students will be spaced 6 feet apart during snack breaks.

5. No sharing of any materials including but not limited to scripts, arts and crafts supplies, and props will be permitted.

6. Seating in rehearsal studios will be maintained at 6 feet apart. Staging and dancing will be spaced at 6 feet apart.

7. Rehearsal studios and bathrooms will be cleaned and disinfected before use.

8. We will limit contact with high touch surfaces

9. Any child who is not feeling well will be asked to stay at home. If a camper falls ill during the day they will be separated from the other students and sent home.