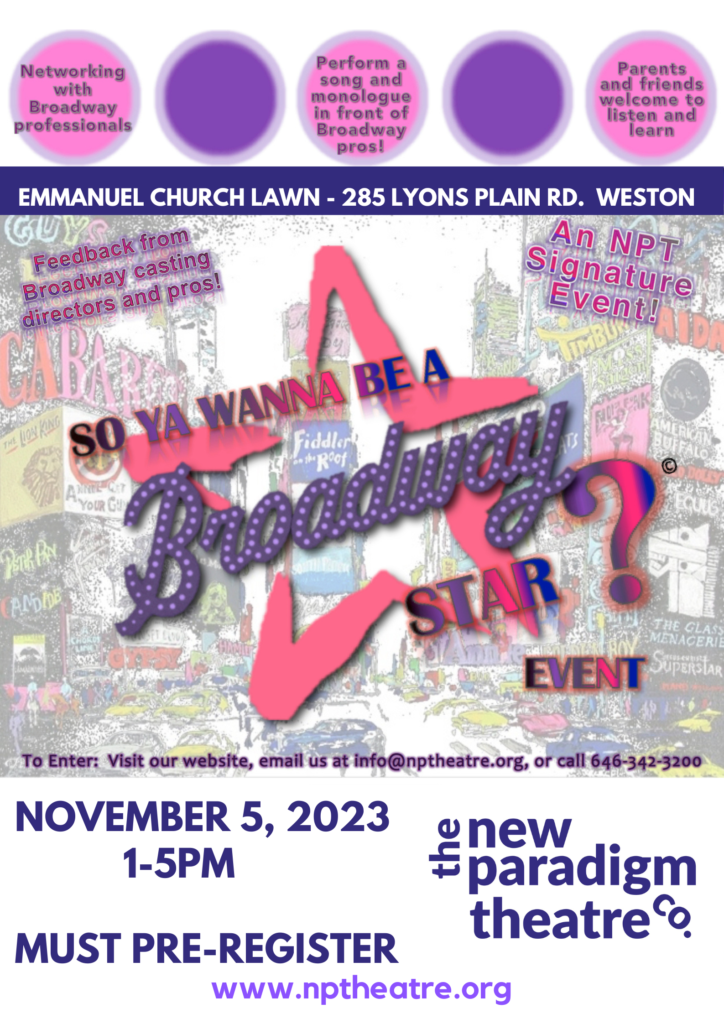 Please fill out an application form and email to info@nptheatre.org
PLEASE NOTE THE APPLICATION FEES BELOW
Then pay with via Paypal, Venmo, or a check (info below):
Early bird special is only $75
After October 7th it is $80
We are accepting only 20 applications with 2 alternates.
Singers from age 8 through adult will audition and receive professional feedback in a master class-style setting from Broadway and film casting directors, agents and producers in New Paradigm Theatre's (NPT) signature event, SO YA WANNA BE A BROADWAY STAR?
PRE registration is required.
Previous winner, Cidalia Alves was also featured in TV appearances following the competition, "The chance to sing in front of Broadway decision makers and to network with them was invaluable."
Short video of the event: http://www.youtube.com/watch?v=z-FKGpoFj7g
Kristin Huffman, Producing Artistic Director NPT, Broadway Performer and professor at University of Hartford will also lead a panel discussion and the audience may ask insider questions about the industry. "Mentoring is a large component of NPT's mission statement. This event is also the audition for our Holiday show and our February collaboration (Music Man) with the Norwalk Symphony.
Networking is crucial in the Entertainment industry and the singers who have competed meet and receive feedback from such pros as : Jamibeth Margolis (NY Casting Dir: Les Miz, Phantom, Cats); Paul Bogaev (Music Producer Movies- Dreamgirls, Chicago and Across the Universe) ; Gwendolyn Jones (Broadway and National tours) ; Ralph Perkins (Choreographer and Director in US and head of Dance Department at University of Hartford), Scott Bryce (Emmy nominee, film and TV performer and director), Jeremy Sickels (NY talent agent with DGRW agency and many other working professionals.
CONFIRMED PANELISTS FOR THIS YEAR INCLUDE:
(One more panelist will be added and all are subject to change)
DAVID FRIEDMAN– Award winning composer and producer
SEAN MCKNIGHT– NY agent at Hybrid
CHRISTINE DWYER– Broadway and National tours
GWENDOLYN JONES– NY and National Broadway tours
APPLY NOW!
PAY HERE WITH PAYPAL
or Venmo $75 to @newparadigm-theatre
Verification number is 4927
OR make checks out to:
New Paradigm Theatre Company, Inc.
c/o Martin, DeCruze & Company, LLP
2777 Summer Street, Suite 401
Stamford, CT 06905