Grease registration for ages 13-18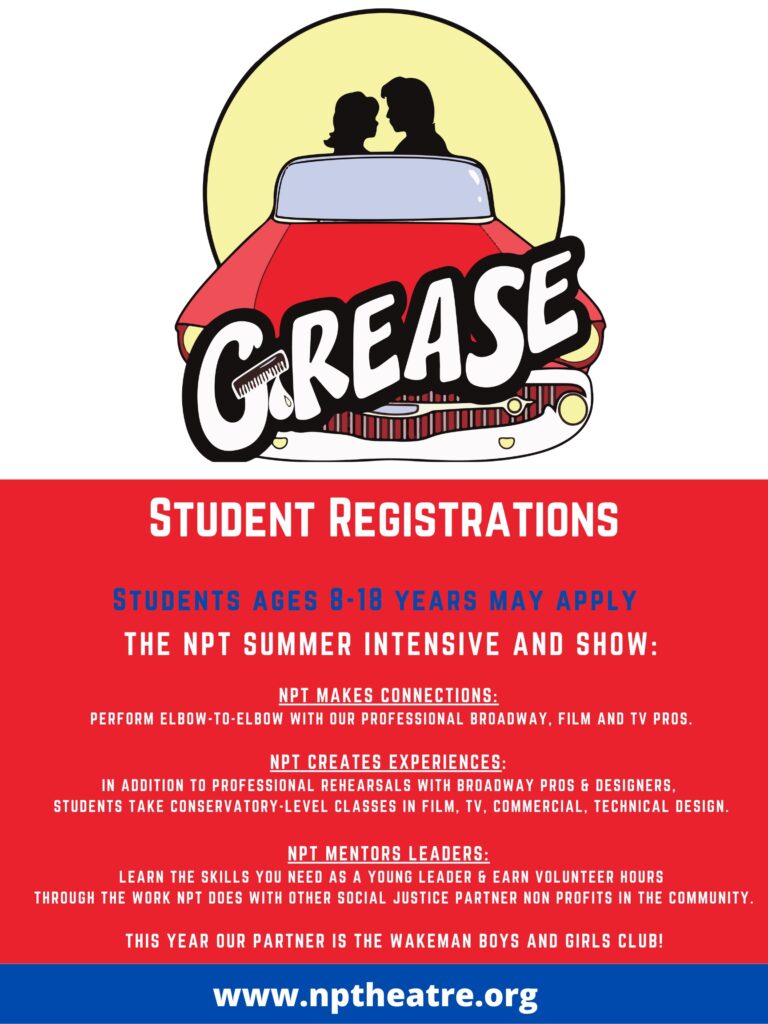 IMPORTANT DATES: Please be sure you have these dates and times in your calendar as we do not allow missed rehearsals.
Rehearsals and Show dates: July 30-Aug 19th
(details below)
FIRST TWO WEEKS: At Emmanuel Church (285 Lyons Plain Rd, Weston)
July 30, Sunday, First FULL Cast "Read/Sing Thru" with the entire cast (students and professionals). Time TBD
July 31-Aug 4 Rehearsals Monday – Friday 1pm-7pm
Aug 5 and 6 Sat/Sunday Rehearsals 1pm-7pm but also TBD
Aug 7 Monday (day off)
Aug 8-11 Rehearsals Tuesday – Friday 1pm-7pm
Aug 12/13 Saturday and Sunday Rehearsals 1pm-7pm
TECH WEEK: (At Black Rock Church's State-of-the-Art Theatre).
August 14, 15, 17 (Arrive 2pm. Rehearse 3-10pm) Day off Weds 8/16.
SHOWS: August 18, Friday, 7pm (Arrive 6pm)
August 19, Saturday 2pm and 7pm (Arrive 1pm)
**THIS YEAR'S REHEARSALS ARE ALSO LOADED WITH TONS OF FILM AND TV WORKSHOPS AND ACTUAL "MOVIE SCENES" THAT THE TEENS WILL HELP TO CREATE WITH OUR PROFESSIONAL TV PRODUCERS!
PLEASE DOWNLOAD AND FILL OUT THIS APPLICATION FORM.
SEND BACK TO INFO@NPTHEATRE.ORG
We are proud to be able to offer our APPLICATION FEE at only $799 FOR 3 weeks for rehearsals, classes and the show!
AND!
*Register early (before April 1st) for the discounted rate of $699 (only $233 per week) Please let us know if you need a payment plan.
*Family discounts are available as well as scholarships for in-need students on a case-by-case basis. Please let us know if a payment plan is needed. Write to info@nptheatre.org for info before February 1.
APPLICATION PAYMENT:
NPT Venmo is newparadigm-theatre
OR USE PAYPAL below:
---
NEXT STEPS:
Once you apply with the application and registration fee and are accepted, NPT will be holding "Callbacks" on April 30th from 3-6pm for the teen roles below.
Everyone will be featured as there are many lines (that are not in the movie) to spread around!
Lights, Camera, Action!
This year we will once again be utilizing the professional movie production skills of Mark Holleran (Holleran Media) and Scott Bryce (Emmy Nominee) to create actual video scenes (in addition to the live scenes) that feature our teens in this show!
Some scenes may be shot before rehearsals begin on July 30th.
Elbow to elbow with stars!
Please see the info about available teen roles below and also about the four leading roles at the bottom of this page: ***Sandy, Danny, Rizzo and Kenickie.
As we typically accept many talented teens and we cannot guarantee your role prior to registration.
NPT is committed to hiring actors who reflect the diversity of our world; we are actively seeking actors of all backgrounds, races, ethnicities, genders, and abilities.
ROLES AVAILABLE FOR TEENS!
FRENCHY: High school teen (Range: Alto, A3–D5) A member of the Pink Ladies. A dreamer; good- natured but not too smart, she is heavily made up, fussy about her appearance, particularly her hair. She can't wait to finish high school so she can be a beautician.
MARTY: High school teen (Range: Alto, C4–C5) The 'beauty' of the Pink Ladies; looks older than the other girls. She tries to act sophisticated.
JAN: High school teen (Range: Alto, A3-C5) Funny, loud, and awkward member of the Pink Ladies. Brash and pushy with the girls, but shy with boys.
DOODY: High school teen (Range: Tenor, D4-A5) The youngest member of the Burger Palace Boys; boyish, and open, with a disarming smile and a hero-worshipping attitude towards the other guys. He plays the guitar.
SONNY LATIERRI: High school teen (Range: baritone, G3-A5) A member of the Burger Palace Boys; funny, Italian-American, he is a braggart and wheeler-dealer who thinks he's a real 'lady-killer.'
ROGER: High school teen (Range: Tenor, D4-A5) The class-clown of the T-Birds. He'll do anything- for-a-laugh; He is full of mischief and is always dreaming up half-baked schemes and ideas.
EUGENE FLORCZYK: High school teen (Range: Tenor, A3– E5) The class valedictorian; physically awkward, and high-pitched voice. He's a typical 'apple-polisher' – both smug and pompous, but gullible.
PATTY SIMCOX: High school teen (Range: Alto, D4-A4) A cheerleader; athletic, sure-of-herself, but can be given to bursts of disconcerting enthusiasm. She's a bit of a pain and unpopular with the Pink Ladies. Twirls a baton.
TEEN ANGEL(S): Frenchy's suave and slick guardian angel, who encourages her to stay in school. This role may be split up into a few male and female presenting teens.
CHA-CHA: A blind date. Loud Mouthed. Takes pride in being "the best dancer at St. Bernadette's".
JOHNNY CASINO: A greaser student at Rydell who leads a rock n roll band and likes to think of himself as a real rock n roll idol.
PINK LADIES AND BURGER PLACE BOYS– All will have lines and solo lines.
***NPT is proud of our hybrid-style theatre which gives young performers the opportunity to perform and learn onstage elbow-to-elbow with Emmy, Grammy and Tony award professionals. Our Broadway directors and design team typically audition professionals for the leading roles in NY and CT.
This year we will be open to auditioning professionals and NPT TEENS for the leading roles of Sandy, Danny, Rizzo and Kenickie.
Please read below regarding experience levels:
If you are a local 17-18 year old and feel that your resume and experience are extensive enough to carry a show of this caliber as one of our four leading roles, please email this specific information:
Your headshot and resume (as an attachment)
Your video reel of musical theatre examples (As a vimeo or youtube link)
Your Name and the character you are submitting for in the subject line.
Email to info@nptheatre.org by March 1st
**In the spirit of teaching our young performers how to become professionals, NPT will only accept these emails from the actors themselves. Please be sure all submission materials are in your email as requested on the left before you send it.