Grease registration for kids 8 to 12 years old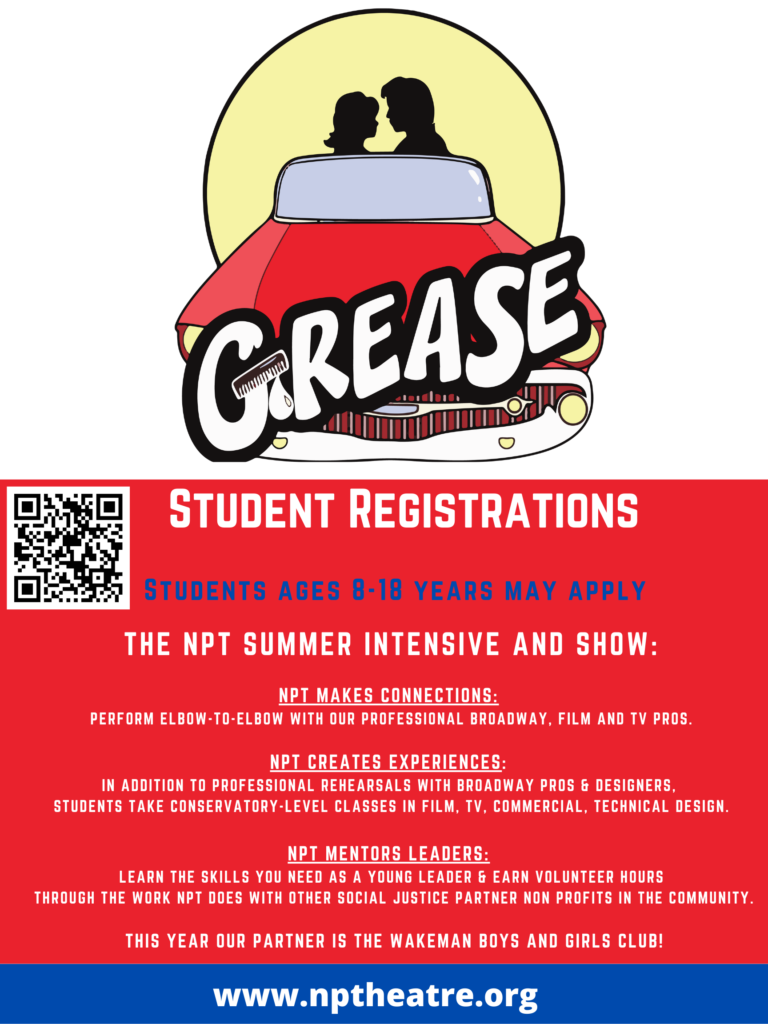 IMPORTANT DATES: Please be sure you have these dates and times in your calendar as we do not allow missed rehearsals.
Rehearsals and Show dates: Aug 7th-Aug 19th
8-12 year old student experience:
Theatre camp (acting, singing, dancing) and performing their own cabaret show at the end of their week for friends and family.
2. During camp they will also rehearse selected scenes to be performed in the main stage performance of GREASE with the teens and adult professionals. This includes being featured in the "Teen Angel" scene as well as two other selected and appropriate scenes.
DATE DETAILS FOR THE 8-12 YEAR OLDS:
Sunday, July 30 for the Cast Read Thru with the entire cast. Time TBD
Rehearsal/Camp starts August 7 (Monday- Friday 10am-12:30. And Sat/Sun August 12/13th TBD but 1-7pm for older cast is the time frame)
Tech week (August 14-17 (day off is Aug 16th) all actors/students are called so please block out the entire week. We will be working out times for these younger actors that will not make them stay for the entire Tech rehearsal (3pm-10pm) and their camp teacher will be with them at all times.
TECH WEEK: August 14, 15, 17 (Rehearse 3-10pm) Day off Weds 8/16.
SHOWS: August 18, Friday, 7pm (Arrive 6pm)
August 19, Saturday 2pm and 7pm (Arrive 1pm)
NPT reserves the right to assess qualified and experienced 12 year olds who may be able to be placed in the older group.
PLEASE DOWNLOAD AND FILL OUT THIS APPLICATION FORM. SEND BACK TO INFO@NPTHEATRE.ORG.
We are proud to be able to offer our APPLICATION FEE at only $399 FOR 2 weeks for rehearsals, classes and the show!
AND!
*Register early (before April 1st) for the discounted rate of $50 off! Please let us know if you need a payment plan.
*Family discounts are available, as well as scholarships for in-need students on a case-by-case basis. Please let us know if a payment plan is needed. Write to info@nptheatre.org for info before February 1.
APPLICATION PAYMENT OPTIONS:
Venmo newparadigm-theatre
OR PayPal: